MAP Alumni Round Table 2021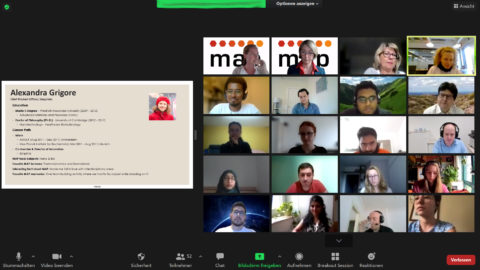 The annual MAP Alumni Round Table has almost become a tradition to give current MAP students more insights into the future professional world. In addition to online excursions to various companies in 2020 and 2021, the MAP Alumni Round Table on 1 July 2021 offered an important addition to the current "lockdown study programme".
Organization and focus
Due to the restrictions imposed by the Corona pandemic, this event also had to take place online – unfortunately without the extremely delicious international dishes that MAP students usually prepare and bring themselves. However, the MAP Alumni Round Table 2021 gained focus in the online format, as more MAP alumni working abroad could be invited this time. In total, three MAP alumni who already had eight to ten years of professional experience presented themselves for discussion.
Three exceptional panel guests
Katja Wadlinger, MAP student since autumn 2020, reports:
"Three former MAP students made time to talk to us about their career paths.
As someone interested in entrepreneurship, Alexandra Grigore, a native of Romania, was the first guest and most inspiring for me. After completing her PhD, she co-founded Simprints, a UK-based company where she is currently Chief Product Officer and Head of Innovation. She gave a unique insight into this career choice.
The second guest, Mani Diba, originally from Iran, is currently a Marie Curie Postdoctoral Fellow at Harvard University. Previously, his path took him through various countries such as the UK, the Netherlands and Texas/USA, where he studied and worked. We followed with great interest the insights he gave us into international life in academia.
The third Indo-German alumnus Anirudh Acharya has become a global product manager at BASF, having also studied and worked in several countries. He introduced us to important basics for the transition from academia to working in a company.
Life as MAP students and alumni
All MAP alumni spoke enthusiastically about their time studying at MAP, their great personal and academic memories, and how much they learned in the "diverse", "colourful" and "fascinating" MAP environment with students from many different academic and cultural backgrounds. Alexandra Grigore described this particular time as the "time of my life".
It made us a little sad as "lockdown students" to hear about all the great activities that former MAP students did together. For us, these activities could only be offered online or did not happen at all, but it also made us look forward to all the great experiences that our second year of study will bring.
We also had the opportunity to ask the MAP alumni our personal questions. For example, conversations arose about what qualities of new employees are important to employers, or what qualities a person needs to found their own company.
We noticed in all MAP alumni their passion for what they do. We have been moved and encouraged by the career paths of these former MAP students. They have shown us what is possible and inspired us to dream big."
The entire MAP team was thrilled to hear that MAP alumni are planning a reunion in Erlangen in 2022. We are all very much looking forward to this reunion and hope that our current students will also have the opportunity to meet our alumni then.
Text: Katja Wadlinger (MAP 2020), Dorothea Herget