MAP student at University of California, Santa Barbara (UCSB)
Palm trees, sun, and beach – this describes my stay abroad at UCSB best. The university has a beautiful campus right on the Pacific Ocean, which evokes beach and surfing vibes in every student. UCSB is one of the few universities where you can go surfing in the morning and attend a lecture in the afternoon. Furthermore, as you can see from the picture, you have a great view of the ocean from the top floor of the library.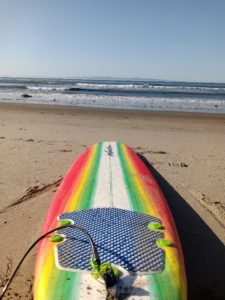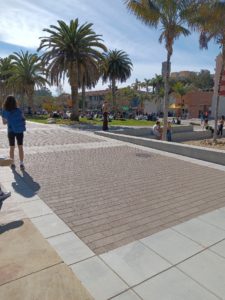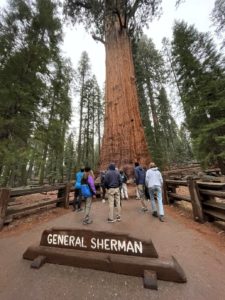 However, the unique campus experience is not the only reason why I enjoyed my stay at UCSB. Even more important, I learned a lot during my semester abroad. It gave me the opportunity to get to know the American education system, which is very different from the German one. Assignments, homework, and attendance are an essential part of the final grade of a course. Moreover, I also learned a lot about Americans, who I think are a bit more open-minded and outgoing than Germans. Furthermore, I had the chance to get to know many students outside of my "engineering bubble". One defining event was a trip to Sequoia National Park organized by Excursion Club, a student organization. There, I did not only take a bath in an icy river and saw the world's biggest tree (by volume), but I also had many interesting conversations with students from other areas, like earth science, biology, or political science.
Finally, my academic education at UCSB also helped broadening my horizon as I had the advantage of being able to choose from all classes at UCSB without being restricted by course requirements from the MAP programme. Therefore, I used my stay at UCSB to improve my Python skills and to learn the basics of C++ programming. I also took two classes in technology management, where I learned the basics in project management and leadership.
All in all, I learned a lot during my stay at UCSB, both for my professional career and for my personal life. I am grateful for the support I received through MAP, without which my stay at UCSB would not have been possible. A semester abroad always requires a lot of planning, and this is where the whole MAP programme was a big help. I had always wanted to study abroad in California, and thanks to the great diversity in our group, I was able to talk to a MAP colleague from California who recommended UCSB. In addition, the MAP office was very flexible and accommodating when it came to extending my student status for the additional semester, and it also helped me pay for flights through an educational grant. Moreover, MAP professor Michael Engel supported me with a letter of recommendation.
By MAP student Kilian Tscharke (Matriculation group 2019)