2023 MAP Best Lecturer Awards

Granted to Prof. Matthias Thommes and Dr. Stephan E. Wolf
Following the 2023 MAP Poster Session, the MAP students of the 2021 starting class presented the MAP Best lecturer Award to their favorite lecturers Prof. Matthias Thommes and Dr. Stefan E. Wolf . You can read the students' speeches to their lecturers below.
Oswaldo Luengas' speech for Prof. Matthias Thommes
It is my honor to announce the winner of the traditional Best Lecturer Award for the 2023 edition.
First of all, I would like to take the opportunity to thank all our professors and staff members, not only for teaching and preparing us for the world after MAP, but also for being fully supportive in our projects, ideas, and ambitious goals throughout this journey called "Advanced Materials and Processes" (MAP).
After a very close election, the results are here.
We chose you for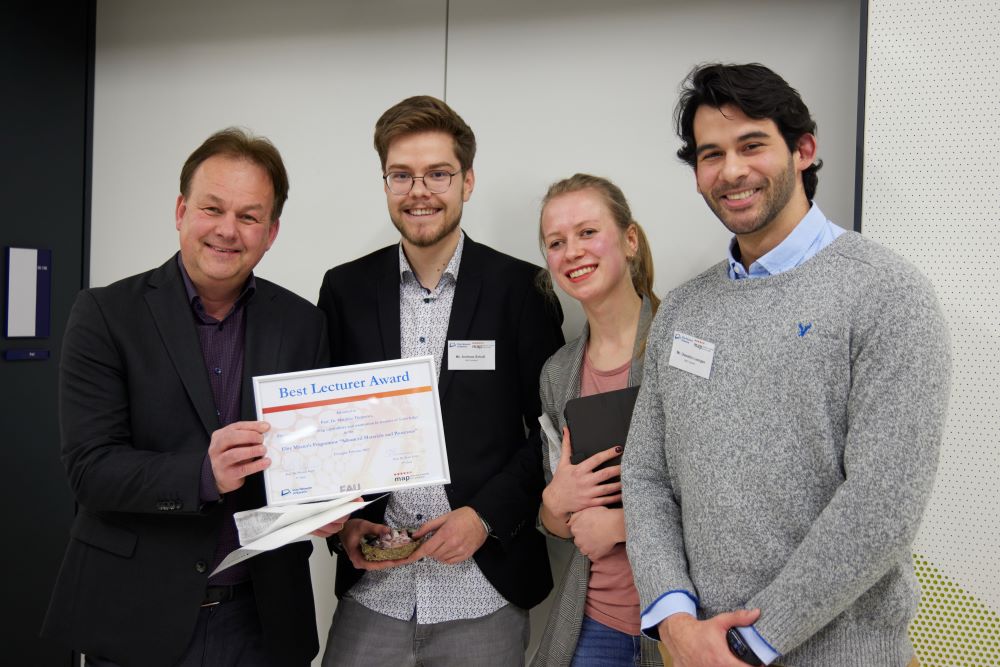 your incomparable enthusiasm
your outstanding skills of converting complicated information into simpler nuggets of knowledge
your remarkable passion for isotherms
your interesting stories and anecdotes, and
of course, for your characteristic spark of humor which you bring to every class.
These things not only made us enjoy every minute, and made us look forward to the next class every week, but also made us see the true beauty of this subject.
We feel thankful for
your lectures
keeping us engaged
challenging us in class.
We thank you for
your patience when answering all our questions after class with the same contagious energy
your kindness
your passion, and for your willingness to share that passion with your students.
Thank you for caring about us and making us feel supported.
We look forward to absorbing a beer with you, "absorbing" with a "B" not with a "D", and with all professors after this ceremony.
We appreciate you so much!
Congratulations to the best lecturer of the 2023 edition: Prof. Matthias Thommes.
Joanna Przybysz' speech for Dr. Stephan E. Wolf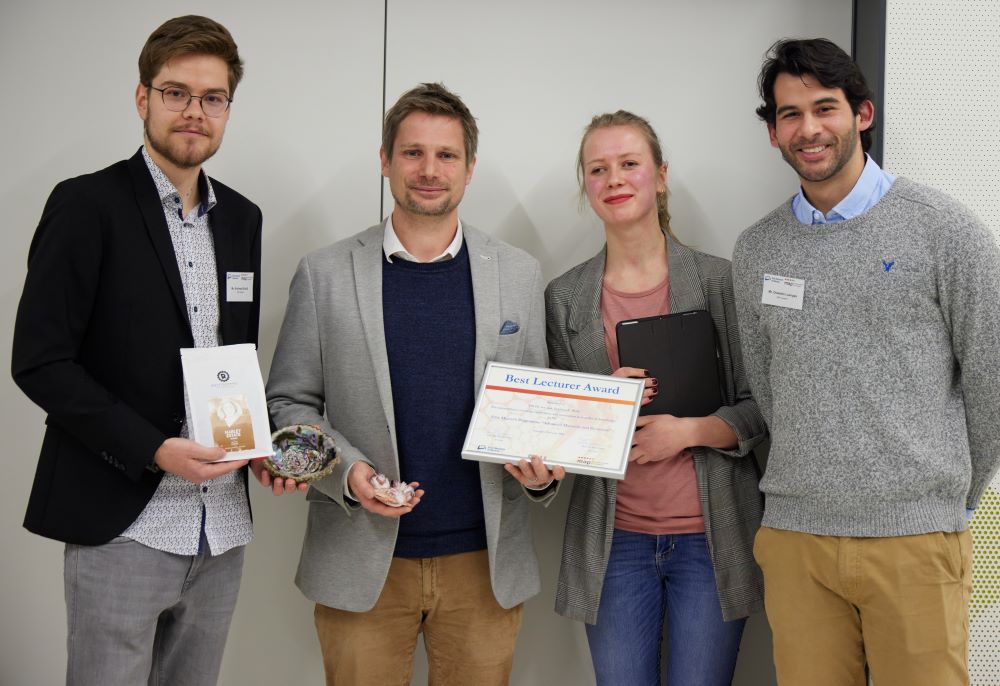 The runner up has an outstanding philosophical approach to science, which he shared with us, teaching us how a scientist should observe and analyze the world. We learned that often the inspiration and solutions to our problems might not be far away, they might already exist in nature, developed five times! Independently! We just have to be sharp enough to notice and transfer them across fields. He also showed us how things that
we take for granted, things that are regular, can be deeply intriguing. The last time I was so amazed by a shell was when I was a small child. And yet, here I go again, discovering nature's incredible designs with the same degree of fascination, but much more understanding.
His way of teaching deserves special appreciation. He turned the standard lecture format into a mind-stimulating discussion with challenging questions. We were encouraged to come up with ideas and we were included in the conclusion-making process. Furthermore, he was bringing exhibits to class and enhancing our learning experience by letting us see and feel what we are learning. Lastly, he went a step further and organized a very educational excursion to Bionicum for us.
If anyone still has any doubt, the second place for best MAP lecturer of the academic year 2022/23 goes to Dr. Stephan E. Wolf, who taught Biomimetic synthesis of materials within the scope of the Bio focal.
Thank you for teaching us.