MAP students involved in BEST Erlangen
Successful participation in regional and international competition
Board of European Students of Technology (BEST) is a Europe-wide association of engineering students, with 88 Local BEST Groups in 31 countries. Every year, BEST organizes the European BEST Engineering Competition (EBEC) with the aim of giving students the opportunity to apply both their theoretical knowledge and practical skills to solve a real-world problem. The students compete as teams in the local round. The winners of the local round then compete in the regional round and finally in the European final.
This year, three first semester MAP students (Akshat Sharma, Heer Shah and Manan Suraiya) participated in the local EBEC round, held on March 8 2022, and secured the second place. They presented their idea of using an ergonomic limbic chair, equipped with muscle micro-movers and sensors, as an input device for Augmented/Virtual Reality simulations.
From their team, Akshat went to the regional round (along with three other students of FAU) held in Maribor, Slovenia. In the regional round, the team was tasked with two case studies. The first was a technical one – a solution for automated testing of different electronic equipment using a robotic cell, while the second was a business one – addressing the agricultural labor shortage in Europe. For the first one, the team came up with a solution involving unified test boxes, vertical storage racks and conveyor belts. For the other problem, the team proposed an online platform connecting jobseekers & student volunteers with farm managers. The team also made a prototype, and assessed the business feasibility.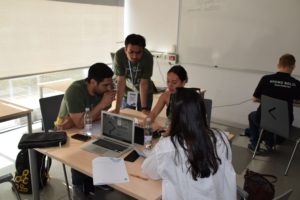 Akshat Sharma and his team at EBEC. Image: BEST Maribor
The regional round brought together teams from over 10 countries in the Alpe-Balkan region and the FAU team won the second prize. Besides intense brainstorming and making presentations, the event was also a platform for cultural exchange, social activities and making new friendships!
By MAP student Akshat Sharma (Matriculation group 2021)