Poster prize: MAP graduate awarded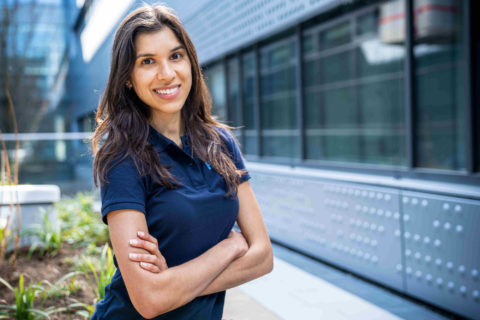 MAP graduate and HI ERN scientist Ana de Oliveira received the award at the annual German Catalysis Society Meeting in March
HI ERN PhD candidate Ana de Oliveira, who graduated from MAP in June 2020,  has received a poster presentation prize in the category "Towards a circular economy: How catalysts can make a difference" at the annual German Catalysis Society Meeting (54. Jahrestreffen Deutscher Katalytiker) in March 2021.
Her poster entitled "Dry reforming of methane (DRM) over Supported Catalytically Active Liquid Metal Solutions (SCALMS)" summarises the research conducted during her Master thesis at the Chair for Chemical Reaction Engineering (CRT) at Friedrich-Alexander University Erlangen-Nürnberg (FAU) under the supervision of Dr. Moritz Wolf. DRM incorporates two major greenhouse gases, namely CH4 and CO2, into the production of valuable synthesis gas, CO and H2. The application of SCALMS as catalysts led to considerable suppression of coking, which is one of the main challenges faced by this high-temperature process. Thus, the development of stable catalytic systems may allow for commercialisation of DRM, which may be another step towards a circular economy.
In October 2020, Ana de Oliveira started her PhD in the team Efficient Hydrogen Release of Dr. Moritz Wolf in the Chemical Hydrogen Storage research department of Prof. Dr. Peter Wasserscheid at HI ERN. Her work focuses on catalyst development for low-temperature dehydrogenation of liquid organic hydrogen carriers (LOHC), contributing to further develop the H2 storage technology for a sustainable and CO2-neutral energy. Ana de Oliveira studied Advanced Materials and Processes (MAP) at FAU after obtaining a B.Sc. degree in Chemical Engineering from the Universidade Federal de Minas Gerais (UFMG) in Belo Horizonte, Brazil.
The MAP team congratulates Ana de Oliveira on this award.
The original article is published on the HI ERN website.